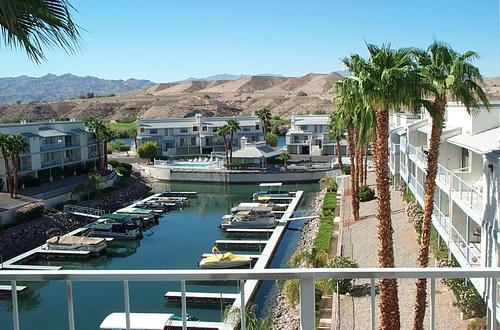 About Bullhead City, Arizona
Bullhead City is situated on the Arizona shoreline of the Colorado River, with its neighbor, Laughlin, Nevada, located across the river. Lake Mohave is just twenty minutes from Bullhead City, with Lake Havasu a little over an hour away. Boaters and water sports enthusiast have discovered Bullhead City as a vacation retreat, with many purchasing vacation homes in the river side desert community.
Bullhead City is also attracting retirees, seeking warmer weather, and affordable housing. Many enjoy the fact that the Vegas like Laughlin, with its casinos, dining and entertainment, is just minutes away. On the Arizona side of the river are Indian Casinos, located on tribal land.
Laughlin, Nevada is Bullhead City's sister city. Laughlin employs over 14,000 people, with most of those employees living across the river in Bullhead City. The resort-casino communities of Bullhead City and Laughlin attract millions of visitors each year. Casino goers often comment on Laughlin's friendlier atmosphere, when compared to the larger Las Vegas. (Las Vegas is just a 90 minute drive from Bullhead City).
Bullhead City's population was reportedly over 38,000 in 2005. Bullhead City is located in west- central Mohave County, Arizona. The primary economic activity of Bullhead City, Arizona is tourism, often centering on the resort and gaming industry. Bullhead City also offers fishing, golf, boating and water sports.
Bullhead City was founded in 1945, and incorporated in 1984. Bullhead City first began with the construction project of Davis Dam, in the 1940's. What is now Bullhead City served as a place for the construction crew.
As for its current name, the story goes, a large boulder, shaped like a bull's head, was located at the dam site, and the community was referred to as Bull's Head. After the dam was built, and the waters of Lake Mohave rose and covered the surrounding shoreline, the boulder was submerged. Postal officials then changed the name of the new community to Bullhead City.
Davis Dam, which created Lake Mohave, was completed in 1953. And while the construction crew left the area, moving on to new jobs, fishermen and boaters began coming to Bullhead City for recreation. Over time, retirees began coming to Bullhead City, seeking affordable housing and warmer Arizona weather. In the last decade new housing projects have sprung up, many offering deluxe upscale homes, along with the affordable housing.
When visiting Bullhead City, you can stop in at the Bullhead Area Chamber of Commerce Visitor Center, Business Services Office and Conference Center, which is located at the Bullhead Community Park at 1255 Highway 95. Bullhead City's Community Park also offers ball fields and a boat launch ramp to the Colorado River.
Average winter weather can range in the upper 60's to lower 70's, while warmer spring and fall months can get into the 90's. The yearly average Bullhead City temperature is reportedly 88.7 degrees, with 6.1 inch annual precipitation.
Bullhead City has an airport, hospital, lodging, camping, and major shopping centers. Bullhead City has been attracting the attention of major retail chains, that have begun bringing their stores, such as Sam's Club, to Bullhead City.
When in Bullhead City, you can visit the Arizona Veteran's Memorial. It stands nine feet high and is forty feet wide. Its bronze plaques give the names of over 3,000 Arizonians, men and women, who gave their lives for our country. It is located off Riverview Drive, and is open year round, there is no admission fee.
Another Bullhead City attraction is the Colorado River Museum, which opened in 1992. The museum, which is the project of the Colorado River Historical Society (founded in 1983) showcases the area's rich history, featuring exhibits on the mining, steamboats, Native American history and much more. The building that houses the museum was built in 1947 for the Davis Dam construction project, and considered a Bullhead City historical site.
The area's first post office is on the museum property, as is a building that was brought from Oatman in the late 1920's or 1930's, and was used as a general store. A replica of the Katherine gold mine, which was established near Lake Mohave, is on display at the Bullhead City museum site. There are also facilities for weddings at the museum location.
You'll find the museum a quarter mile north of the Laughlin Bridge, at 2201 Highway 68. The Bullhead City museum is closed during the months of July and August. For current hours, call (928) 754-3399.
And of course, when visiting Bullhead City you can enjoy the Colorado River, nearby Lake Mohave, exploring the 4x4 trails, golfing, fishing, or taking a short trip to Laughlin, Nevada to try your luck at the nearby casinos.